Hello everyone,
Welcome back to Lifestyle Sundays!
Throughout the years, I started using products that I need in my daily makeup/beauty routine. All of the products I will share with you today are products that I repurchase on a regular basis.
I hope you enjoy this post and let's get started!
1. Coconut oil.
This product is a life savior for my skin, not only did it make my skin more moisturized, but it also made my skin clear from blemishes. You can find coconut oil at your local natural food store and buy the one with label "organic-virgin-fresh pressed"coconut oil label. The cold winter air can dry out our skin and it is very important to moisturize your skin to bring back the moisture. I use coconut oil on a daily basis, in the morning and in the evening. I usually leave with house with nothing but coconut oil on my face. In the winter time, I typically get dryness around the mouth and I have noticed that the oil moisturizes my skin better than the actual moisturizers. Coconut oil is also good for oil pulling aka making your teeth whiter and using it as a hair mask to make your hair softer. I have become a hippie in some ways and I prefer to use natural products. I highly recommend this product, you will not be disappointed!
2. Lipstick.
I can't leave the house without lipstick and I usually carry five different colors in my makeup bag. Color on my lips brings life to my face, the other day I did not wear any makeup and no lipstick too. I noticed that I looked very tired, as soon as I put on some lipstick I started to look more refreshed. My love for lipstick began when I was little when I watched my mom and my grandma put on lipstick. To me wearing lipstick is my definition of femininity, I like how different colors make me look a little bit different. My favorite lip products to use are the Revlon lip stains (very long lasting), Maybeline Color Elixir and The Revlon Lip butters. I love the lip stains because the color lasts on your lips so long, even if you eat or drink. The Maybeline Color Exilir is the perfect lipgloss because it is not sheer and I have mentioned in my previous beauty posts that I dislike sheer lip products. Lastly, the Revlon lip butters are amazing and so moisturizing! They are like a super pigmented tinted lip balm, I have almost every color.
3. Eyeshadow Primer.
I don't know how I managed to go on half of my life without this holy grail product, it literally made such a huge difference for me. I have oily eyelids so whenever I wore eyeshadow, it would crease very quickly. When I discovered the Urban Decay eyeshadow primier, I didn't have to worry about my eyeshadow creasing. I would come home from a long day and my eyeshadow would look the same as it looked in the morning. Anything that makes my life a little easier and do not have to reapply my makeup is a keeper.
4. Grease Lightening Spot Treatment.
Lush has become my new favorite beauty store, they a great selection of products and one of my favorites is the Grease Lightening Spot Treatment. I've always been a bit skeptical towards acne spot products, but I was pleasantly surprised by this one. I did not expect that this product will actually work, it is a gel and you apply it on any active breakout areas. I have noticed that when I use it the redness of the pimple is not as intense as it was the night before. If you have trouble with breakouts, check out this product because you will not be disappointed.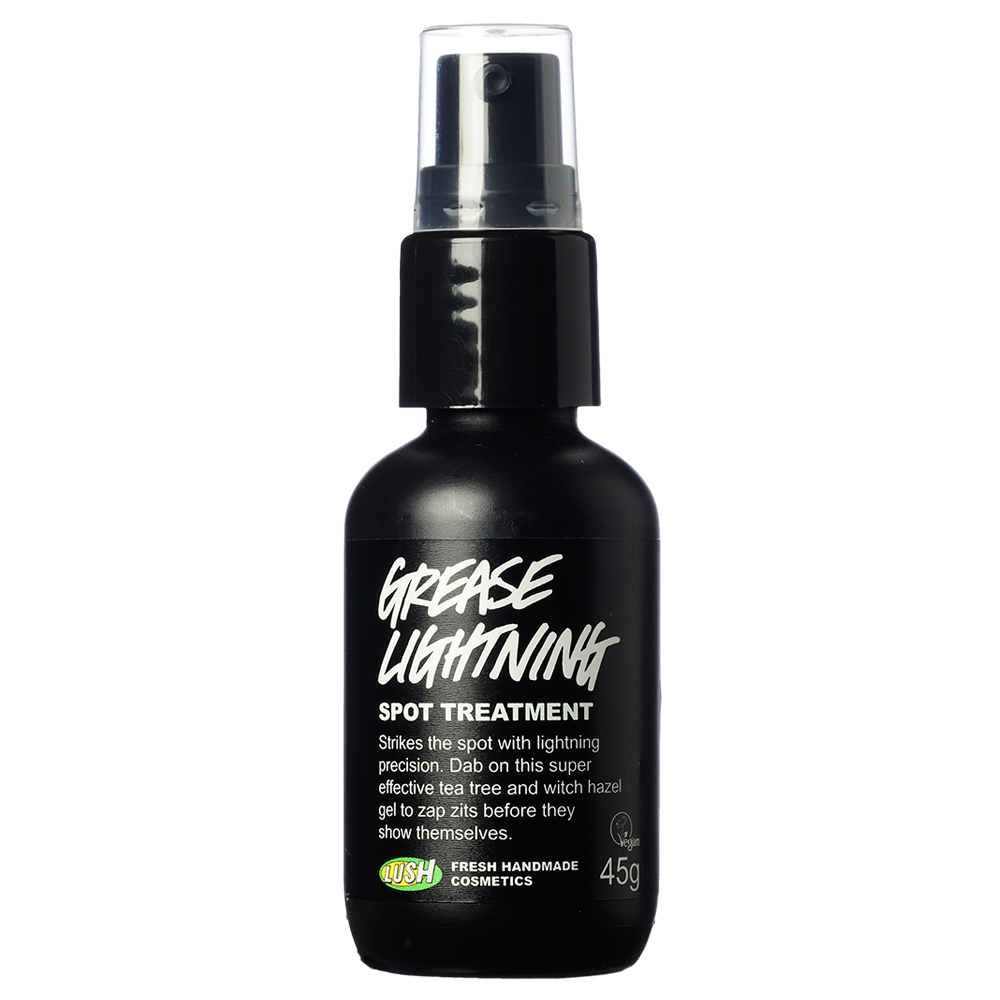 5. Burt's Bees Tinted Lip Balm.
I got this as a birthday gift a year ago and I've been loving this product! On a day when I do not want to wear a bold lip color, I grab this lip balm. It has a very subtle color that's not overpowering, I also wear this a lot at the gym. It is also very moisturizing, this is probably the best lip balm that I own.
6. Eyeliner.
Eyeliner makes a huge difference when I do my makeup, it also looks good on its own without any eyeshadow. My favorite eyeliner I've been using is the Rimmel London Exaggerate Waterproof Eye Definer. I've been liking this eyeliner because it has a sponge applicator on the other end and it gives me the opportunity to create a smokey eye look.
7. Maybeline Color Tattoo Cream Eyeshadow.
This is such a great product as an eyeshadow base or just on its own, it last about 5-6 hours, but if you add eyeshadow primer the eyeshadow won't budge. I have used many cream eyeshadows and this one is a winner, forget everything else.
8. Cupcake Fresh Face Mask.
Yet again, another Lush product and this face mask is another product to fight acne. It is not abrasive at all, which a very good thing because I have sensitive skin. It cleans any dirt and oil on your face and I typically use this mask at the end of the week. Not to mention that it smells delicious 🙂
9. Almay Wakeup Undereye Concealer.
We all have those day when we don't get enough sleep and the next day we look like a panda! I started using the Almay undereye concealer about a year ago and it brightens up my under eye area very well. I have laugh lines around my eyes and I noticed that it does not sink in those fine lines. So far I don't have any complaints!
10. Dove Go Fresh Body Wash.
I am the type of person who is too lazy to put on lotion after showering, I just can't be bothered with that. That's why I use the Dove Body Wash because it creamy and it moisturizes my skin. Not to mention that it also has variety of wonderfully scented body washes, the one I currently use is the shea butter and warm vanilla sugar. I have a thing for vanilla scents, I am actually burning a vanilla scented candle as we speak. My room smells delicious!
I hope you guys enjoyed this post, please share with my your beauty/makeup must haves! I hope everyone is having a great Sunday and I will see you soon 🙂