Hello everyone,
Welcome back to Foodie February! I apologize for the lack of posts for this month's theme, but not to worry I will have plenty of posts coming up this week.
Today I want to share with you my favorite go to restaurants in the city, that I've been visiting frequently over the years.
Let's begin.
1 Pickle Barrel.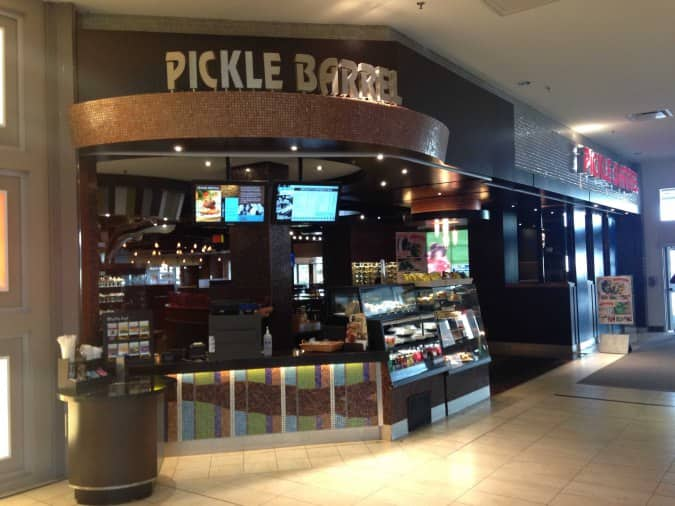 Pickle Barrel is a restaurant I've been visiting for years, and I absolutely love it. When I was a university student, there was a location near my campus and I would go there often with friends and family. This restaurant is very affordable, the food is fresh and delicious. In addition, if you need to make some changes to your meal and if you have any allergies or intolerances they are flexible in making the food to suit your taste. If you are on a budget, this is the place to go.
2. Cibo Restaurant.
I am a huge lover of Italian cuisine, and one of my favorite Italian restaurants is Cibo. The food is absolutely delicious, and I typically go for brunch when they have a buffet style setup. Cibo usually offers Groupon coupons for two people, because it can be quite pricey for one person. I love the food, and I feel like I've taken a trip to Italy. If you are in the mood for a fancy day out and treat yourself then this is the place to visit.
3. Sushi Sky.
I love Asian cuisine, Korean, Japanese, Thai and Filipino food. Sushi Sky is an all you can eat restaurant in downtown Toronto if I can recall correctly the cost for the lunch menu is $13 and $20 for the dinner menu. You can order more than just sushi and the food is delicious. You can get sushi, sashimi, hand rolls, teriyaki meat and more. I am very particular about the freshness of the sushi I eat and this place gets a two thumbs up.
4. Spoon & Fork.
If you are a lover of Thai and Japanese food, this is the place to visit. I love their pad thai and of course, I go mainly for the all you can eat sushi. The service is fast and the food is delicious. I started coming here five years ago and I love their food!
5. Pizzeria Libretto.
If you are in the mood for pizza this is a great place to visit, the pizza is so delicious and it feels like it melts in your mouth. With great confidence, I can say that this is the best pizza I've had in a very long time. They offer a great variety of topics, so I highly recommend this place.
6. Calii Love.
This place is a bit more down to earth and casual, which is more my style and the food is healthy and delicious.
7. Kinton Ramen.
Kinton Ramen offer a variety of ramen. My favorite is the classic ramen, I love ordering the miso ramen. The place is clean and the ramen tastes very fresh. The staff is also very welcoming and service is fast.
8. Asian Bowl.
Asian Bowl offers Pan-Asian dishes, I started coming here three years ago and I love the variety of the delicious dishes they offer. Asian Bowl is located near Dundas Square and you have an access to Eaton Centre.
9. Luma Restaurant.
This restaurant is on the upper scale of restaurants, but I enjoy their food during Summerlicious and Winterlicious. Those are an event when you order a three-course meal for half the price. The food I had was so delicious and I love going back there whenever I can.
10. Sushi 2 Go.
Sushi 2 Go is a restaurant I've been visiting since my university days, I mainly go for their sushi but they also have a delicious salmon teriyaki. The prices are reasonable and the food is fresh.
That is all for my list of favorite restaurants in the city, let me know where you like to eat out.
Thank you so much for reading and see you soon!